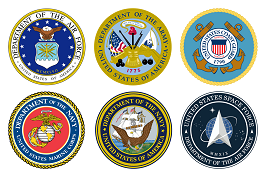 Transitioning from the U.S. Military to a Civilian Career
By Gideon T. Rasmussen, CISSP, CRISC, CISA, CISM, CIPP
Here is my advice to prepare for transition from the military to a career in a civilian company. Tips include training resources, networking with veterans and how to prepare a career profile & a job search portfolio.
I. One Year from Your Separation Date

a. Enroll in the Transition Assistance Program (TAP)
All military branches provide
TAP services
to support servicemembers as they transition into civilian life. Services include career counseling, resume training and veteran's benefits briefings.
b. Work on your LinkedIn profile
LinkedIn is used for professional networking in the civilian world. Start by creating an account and filling in details of your background and experience.
Headshot:
Many military members establish a LinkedIn profile with a picture in their military dress uniform. That is perfectly natural. Now that you are pursuing a civilian job, it makes sense to have a professional headshot taken while wearing a business suit. That helps the Hiring Manager to visualize you as someone who can walk in the door and start working. Post the new headshot to your LinkedIn profile.
Headline:
The LinkedIn Headline field appears at the top of your profile, beneath your headshot photo and your name. By default it appears as your most current job title and your company. Update your headline to something like this:
<Role> separating/retiring from <Branch> | Available for hire <Month/Year>
Here is a headline example:
Cybersecurity Manager separating from the USAF | Available for hire February 2025
Experience Section:
The Hiring Manager will begin by focusing their attention on your latest role in the military. You need to translate your military job code into its civilian equivalent. When I was in the USAF, there was only one Air Force Specialty Code (AFSC) for the Information Technology career field: "3C0X1 - Computer Systems Operations". Identify your functional role in the military as your job title (e.g. Cybersecurity Manager).
Use LinkedIn as your portfolio website. Fill in the sections completely. Refer to
my LinkedIn profile
as an example.
c. Ask for help
Search LinkedIn for veterans in your career field. Ask for their support. Here is a LinkedIn invite template:
Hi <Name>,

Please consider this request to connect via LinkedIn. I am an active duty service member, preparing to transition to the private sector in September 2025. I would appreciate your advice and help connecting with veteran hiring managers.

Thanks for your time and consideration,


Seek out at least one person to act as your sponsor or mentor. A veteran in your career field can:
Provide feedback on your resume

Help you prepare for interview

Refer you within their professional network

Provide an opinion on salary range

d. Join LinkedIn veteran's groups
Post in LinkedIn veteran's groups. Ask for advice and support with your transition. Provide basic details such as your military branch, your career field and separation date.
e. Work on your resume
Your resume should contain details to help the Hiring Manager gauge what you are capable of. Reference my tips for preparing a resume that highlights your accomplishments and answers the 'so what' question:
II. Six Months from Your Separation Date
a. Obtain letters of reference
Ask your supervisor and two other leaders to provide you with letters of reference. Ask them to print the letter on squadron/unit letterhead, with a signature at the bottom. Paper quickly becomes wrinkled and fades with time. As soon as you receive a new letter of reference, scan it to PDF to preserve the document. That enables you to print a copy years later.
b. Establish a career profile slide and a portfolio
Be mindful that you are competing for each job with other candidates. Having a resume is a minimum requirement. Prepare a job search portfolio in advance, before you interview on-site. Access my tips for completing a career profile slide and a portfolio to represent your accomplishments:
c. Reach out to corporations that have military talent programs
III. One Month from Your Separation Date
Invite your military, GS and contractor friends to connect via LinkedIn. Post to LinkedIn once you have separated. Leave at least two weeks of separation leave to relax before you start your new job in a company.
IV. Summary
Leverage this advice to drive opportunities towards you. Do not rely on posting a resume on a job site and going through the Human Resources process within hundreds of other candidates. That is a passive approach that will limit your opportunities. Reach out to veteran's groups and veterans in your career field. If you have someone as your advocate, that can raise you to the top of the candidate pool. Follow the path of least resistance.
My thanks to you for your service! Once you have transitioned into a company, I know you will help veterans transition moving forward. It's what we do.
Click here for more professional development tips