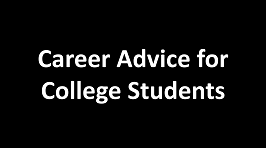 Career Advice for College Students
By Gideon T. Rasmussen, CISSP, CRISC, CISA, CISM, CIPP
Here is my advice to prepare for a career after college. Tips include how to gain experience, resume, LinkedIn profile, professional networking, career profile and job search portfolio.
I. While in High School

a. Select a degree that is in demand now and will be in the future
Examples include the cybersecurity and medical career fields. Select an area of focus that interests you. If you choose poorly, it will be difficult for you to find a job initially and to earn a salary that will provide a reasonable standard of living.
b. Apply for a scholarship
CyberCorps Scholarship For Service (SFS) provides scholarships for up to 3 years of support for cybersecurity undergraduate and graduate (MS or PhD) education. In return for their scholarships, recipients must agree to work after graduation for the U.S. Government, in a position related to cybersecurity, for a period equal to the length of the scholarship.
https://www.sfs.opm.gov/StudDefault.aspx
II. Throughout Your Time at College
a. Strive to gain experience and accomplishments
Develop technical acumen such as software coding or cloud computing expertise. Learn about penetration testing and participate in capture the flag challenges at security conferences.
Complete papers and projects that have meaning from a business perspective. Business executives are focused on generation of revenue, cost savings, increase in capacity, more with less, establishing new products and services, polishing brand/reputation and identifying and mitigating risk. If a professor provides an assignment that is not business-relevant, meet 1:1 and propose an alternate topic. Save your work product for use in a portfolio.
b. Establish a LinkedIn profile
LinkedIn is used for professional networking. Start by creating an account and filling in details of your background and experience.
Headline:
The LinkedIn Headline field appears at the top of your profile, beneath your headshot photo and your name. By default it appears as your most current job title and your company. Update your headline to something like this:
Aspiring Cybersecurity Professional | Graduating <Month Year>
Experience Section:
The Hiring Manager will begin by focusing their attention on your skill set and experience. Communicate accomplishments that align to the job opening. In the cybersecurity career field, consider applying for 'SOC 1 Analyst' roles. That is an entry level role in a Security Operations Center. There are also SOC2 and SOC3 Analyst roles so career progression is built in. Security Analyst is another entry level role to consider.
Use LinkedIn as your portfolio website. Fill in the sections completely. Refer to
my LinkedIn profile
as an example.
c. Send LinkedIn invitations to students and professors
Fellow college students know you from class and may have worked with you on a project. Students from your freshman year onward will take jobs with many different organizations as they graduate. That represents opportunity for you and them, to help each other make connections and learn of job opportunities throughout your careers.
Connecting in LinkedIn helps you keep in touch with your professional contacts. As the years go by phone numbers and e-mail addresses change. LinkedIn is like a virtual address book with contact information updated automatically.
d. Attend local chapter events and conferences
Attending local events will enhance your education as you attend presentations from practitioners and leaders. There is also opportunity to get to know local professionals in your career field during breaks and lunch. Those relationships can pave a path to a job as you graduate.
Here are cybersecurity organizations that have local chapters throughout most major cities in the United States:
Most chapters have a LinkedIn group. Take a few minutes to search for it and request access. Send a message to each chapter. Mention you are a college student and ask to be added to their mailing list. That will provide notification when new events are scheduled.
III. Your Junior and Senior Year

a. Apply for an Internship
Internships can be a great way to gain experience. While interning for a company, they evaluate your work ethic and skill set. At a minimum you should come away with accomplishments for your resume. It is also possible that the company will hire you into a full-time role upon graduation.
b. Create a resume
Document your experience and accomplishments in a resume. It should contain details to help the Hiring Manager gauge what you are capable of. Your resume can be 2-3 pages. Keep in mind that it represents you as a professional so more than one page is fine.
Reference my tips for preparing a resume that highlights your accomplishments and answers the 'so what' question:
c. Flesh out your LinkedIn profile
You LinkedIn profile should have content similar to your resume. The more content you have, the more information is available for search engines. That helps drive opportunity towards you. Expand the Accomplishments section to reveal Courses, Projects, Honors & Awards, Test Scores, etc. Fill in as many sections as you can.
d. Obtain recommendations
Ask your professors and your internship manager to post recommendations on LinkedIn. Consider asking them to highlight certain skills and accomplishments. A recommendation on LinkedIn is very powerful because it is open to the Internet and it validates your experience. That can drive opportunities towards you as recruiters and human resources search LinkedIn for qualified candidates. LinkedIn recommendations also make good content for a portfolio.
e. Ask for help
Search LinkedIn for leaders in your career field. Ask for their support. Here is a LinkedIn invite template:
Hi <Name>,

Would you accept this invitation to connect on LinkedIn? I am an aspiring cybersecurity professional, attending <college name>. I graduate in <month year>.

I would appreciate your advice. Hope to hear back from you soon.

Many thanks,


Seek out at least one person to act as your sponsor or mentor. A leader in your career field can:
Provide feedback on your resume

Help you prepare for interview

Refer you within their professional network

Provide an opinion on salary range

f. Reach out to organizations that have college recruiting programs
IV. Six Months from Your Graduation Date

a. Post a headshot
Many college students establish a LinkedIn profile with a picture in casual clothes. That is perfectly natural. Now that you are pursuing a full-time job, it makes sense to have a professional headshot taken while wearing a business suit. That helps the Hiring Manager to visualize you as someone who can walk in the door and start working. Post the new headshot to your LinkedIn profile.
b. Establish a career profile slide and a portfolio
Keep in mind you will be competing with 3-5 candidates for each job opportunity. Having a resume is a minimum requirement. Prepare a job search portfolio in advance, before you interview on-site. Establish a career profile slide with details of your background and accomplishments. Include the slide within the portfolio, with your resume, recommendations and work product:
Having this information with you is important. Do not meet with the hiring manager empty handed.
c. Ask for help (again)
By now you should have many leaders in your LinkedIn network. Ask for their support again, now that you are getting close to graduation:
Subject: Entry Level Cybersecurity Position

Hi <Name>,

I hope this message finds you well. Would you help me find an entry level cybersecurity position? I graduate in <month year>.

My XXXX experience includes XXXX. Preferred locations are in the areas of XXXX, XXXX and XXXX. I have a strong work ethic and look forward to hitting the ground running.

My resume and career profile slide are attached. For more detail, please visit my portfolio web site: https://www.linkedin.com/XXXX.

If you do not have an opening, please consider passing my resume to your professional network.

Thanks so much for your support. I appreciate it!


d. Post to LinkedIn
I'm open for SOC 1 Analyst, Cybersecurity Analyst and similar roles in Location1, Location2 or remote within the USA.

V. Upon Graduation
Post to LinkedIn once you have graduated. Leave at least two weeks of vacation to relax before you start your new job in a company.
VI. Summary
Leverage this advice to drive opportunities towards you. Do not rely on posting a resume on a job site and going through the Human Resources process within hundreds of other candidates. That is a passive approach that will limit your opportunities. Reach out to leaders in your career field. If you have someone as your advocate, that can raise you to the top of the candidate pool. Follow the path of least resistance.
Click here for more professional development tips